It's not often that a film's director publicly acknowledges their own box office bomb, especially while the film is still opening in cinemas, but Elizabeth Banks made a brave exception this week after her Charlie's Angels reboot humiliatingly crashed.
"Well, if you're going to have a flop, make sure your name is on it at least 4x," the writer-director-producer-star tweeted to her 2.3 million followers. "I'm proud of Charlie's Angels and happy it's in the world."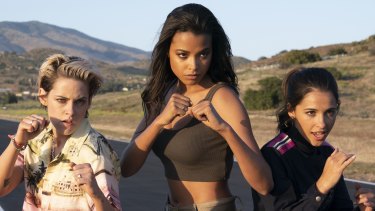 The film, made for an estimated $US75 million ($110 million), has claimed back under half of that since opening last week, including a dismal $US8 million ($12 million) opening weekend in the States. In Australia, the film was outpaced at the box office by Ford v Ferrari, a movie that's like Cars 3 but for grandpas.
Online discussions have furiously debated the possible reasons for the film's collapse. There's the lack of star power outside an oddly cast Kristen Stewart; Banks' awkward press tour in which she denigrated the pioneering female box office power of DC's Wonder Woman and Marvel's Captain Marvel; and that the internet's usual misogynists have laid the blame at women doing women things on-screen and why can't all movies just be tough man-robots punching other tough man-robots before the man-robots hug each other, toughly?