Relocating to a village has been liberating, "living in wellies, no make-up, no fancy clothes," she says. "You peel off a lot of everything you don't need and you allow yourself to be who you are, resolved of any artifice or device."
"It's a nice achievement in life as a woman, too, to be able to free yourself of so many social corsets."
Herve has been busting out of social corsets since the late 1990s. She was one of only a few female DJs and producers at the time and surmounted sexism in a pre-woke era to become an international underground superstar. She was known as Miss Kittin until recently discarding the feminising prefix that promoters added without her consent in the early years.
Herve's collaborations with the likes of Chicago house producer Felix da Housecat and Swiss musician Golden Boy spawned huge club hits in the early '00s featuring her signature detached vocals. However, Herve was a talented artist in her own right and went on to release four solo albums, a bunch of celebrated mixes and numerous releases with fellow French producer The Hacker, her most enduring creative partner.
The likes of Herve paved the way for a burgeoning number of female DJs and producers around the world, but the modern era of electronic music comes with its own challenges. For Herve, who has always valued art over commerce, staying true to her creative vision is harder than she makes it look.
"There is a lot of competition and I'm really not competitive, it's the opposite," she says. "When I see competition, I want to run away and be a punk."
She consoles herself with the daily reminder that "there will always be people who want handmade shoes" over fast fashion and music.
"That's more or less what keeps me going. If I had to surrender to how it is today I would do something else because that's not what I want for myself as an artist."
That's what rave music was about for me, you know, a big coming together.

Kittin
Earlier this year Herve had another huge club hit; Forever Ravers with Brazilian producer ANNA. The blistering techno track was released on legendary Cologne label Kompakt.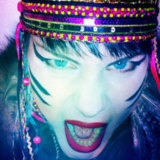 Herve rushed off some vocals in the studio not long after Keith Flint of the Prodigy died. " It [Forever Ravers] brings out this rave gathering feeling that I, we all need sometimes," Herve says. "Goddamn, I miss Keith Flint."
Herve's inimitable delivery, at once regal and robotic, renders the repetitive, expletive-laced chorus compelling, but the more important lyrics come later. "Techno gender fluid, dancing til we die."
"That's what rave music was about for me, you know, a big coming together, no matter how you look or how you dress and it's even more relevant now," she says.
The track will surely be a highlight of Herve's DJ sets when she makes her eagerly anticipated return to Sydney and Melbourne this month. She remembers Australian crowds as "very friendly, positive, rainbow hippies – something between hippies and beach culture but with a strong rock flavour as well," she says. "So it's like California, but much better!"
Herve will also take part in a conversation at Melbourne Music Week with seminal German electropunk duo DAF, one of whom she met while living in Berlin. "It will be nice to see them again because I would have never guessed at that time that 25 years later I would still be here," she says. "I'm very, very grateful for that."
Kittin is performing at Club Yes, Darling Harbour in Sydney on Friday, November 15, and is also part of Melbourne Music Week on Saturday, November 16. mmw.melbourne.vic.gov.au
Annabel Ross is a Reporter for The Age.