Enthusiasm for a particular subject can be mistaken for self-absorption, Rodgers explains, while someone overwhelmed by emotion may appear to be indifferent.
Unlike other reality shows, there are no 'losers' who get evicted or 'winners' who get chosen.
"Everybody has a basic human need for connection and love," she says. "For people who are neuro-typical, this series offers a depiction of autism I don't think they've seen before. It's not about, 'Oh, these poor people with a disability.' It's an uplifting and positive look at what the possibilities are rather than what the disability is."
Producer and director Cian O'Clery, who has had minor production roles on reality shows including The Farmer Wants a Wife, decided to make the series while filming Employable Me. The award-winning ABC program, which aired last year, followed a neuro-diverse group of people in the search for meaningful work.
"We kept meeting people who wanted to find love as well as a job but there wasn't much support out there," he says.
"This is really about practice. Anyone who hasn't been on many dates needs practice. Of course, there are people on the spectrum who don't need any help at all and others who are already in great relationships, which is why it was so important to include couples who are making it work."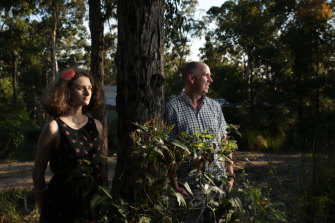 On a traditional reality shows, O'Clery says, pre-determined narratives might be shaped through "format points" such as group dates and evictions. While the participants in Love on the Spectrum receive on-screen coaching from relationship experts, he believes the series is better described as a documentary.
"There are real people telling their own stories and the involvement of their families [reinforces that]," he says.
Chloe's father, Gary, is reassured by the fact it's airing on ABC.
Loading
"It was a great show for Chloe to be involved in personally as well as helping [educate Australians] more broadly," he says.
In the first episode, we observe Chloe on two dates: one with a young man and another with a young woman, which leaves her beaming. Whether she "finds someone" by the final episode is not the point – there are no "losers" who get evicted or "winners" who get chosen.
"The shows has helped me in so many ways," Chloe says. "It's taught me how to be social and how to communicate … it's really helped me build my confidence."
Rodgers believes every viewer will relate to the series.
"I don't think there'll be a single person who doesn't see at least a bit of themselves in the people on screen," she says. "Whether it's the struggle of meeting someone or that giddy feeling after a date goes well, people will say, 'I know that feeling.'"
Love on the Spectrum starts 8.30pm, November 19 on ABC.
Michael Lallo is a senior culture writer at The Age and The Sydney Morning Herald.