This week we check in on Chicago's prolific Don't Fret. As usual DF has been busy creating, and this week he opens a solo show "O God, There's Noises I'm Going To Be Hungry For" in Bed Stuy, Brooklyn.
Fresh off the release of his killer new monograph 'Life Thus Far' DF has been working on the streets in NYC, in the studio for this week's show, and an occasional indoor mural. All street photos in this article are new works created in NYC around the opening of Thursday's show in association with Bed-Stuy Art Residency and Brooklyn Street Art.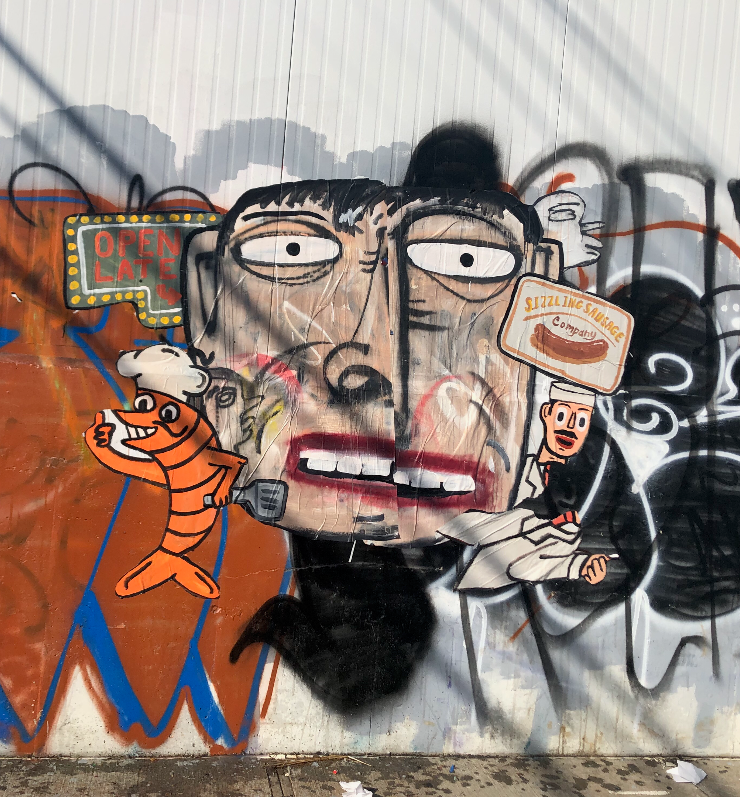 We're especially fond of his recent recreation of the fictitious Championship Vinyl record store from the classic John Cusack film "High Fidelity" inside Chicago's Soho House. The mural was done around New Year's Eve 2019 prior to DF's departure to the east coast this month.
Don't Fret has spent January in New York creating new pieces (inside and out) with Brooklyn's Bed-Stuy Art Residency, culminating in this week's opening of "O God, There's Noises I'm Going To Be Hungry For."
DF explains the name of the show, "I really wanted to title the body of work I make over the next weeks with a quote about New York, but nothing was really resonating with me. I always read more Chicago authors when I'm away then at home so leave it to a Chicago kid away from home to revisit and find the perfect title in a Carl Sandburg poem.
The title comes from "A Teamsters Farewell":
'Goodbye now to the streets and clash of wheels and locking hubs. The sun comes on the brass buckled and harness knobs, the muscles of the horses sliding under heavy haunches, goodbye now to the traffic policeman and his whistle, the smash of the iron hoods on the stones, all the crazy wonderful slamming roar of the street- o god, there's noises I'm going to be hungry for.'
Catch the show opening @ 475 Putnam Ave in Bed-Stuy Brooklyn Thursday Jan 30th 5-10p!
Don't Fret can be found on his website https://dontfret.bigcartel.com/ and Instagram @dontfretart
About Josh Reich
My introduction to art & street art was mostly through album artwork.
I was drawn to Futura 2000 (via UNKLE), Steve "Espo" Powers (Tommy Guerro), Paul Insect (DJ Shadow), and Bansky (Blur) before I even knew what street art was. Spray paint is banned in my home town of Chicago, so the internet became my portal to the world as I leaned about amazing artists creating on walls all around the globe.
My day job is in music, but I continue to have a strong passion and respect for artists of all mediums.