"The two security guards from VenuesWest came on request from Elton's team," he said.
"Elton could not and did not see one bit of what was going on as his piano blocked the direct view to where she was standing."
It was not until security were walking the lady away "in a very kind manner supporting her under her arms" that the singer got involved.
It was just over halfway through the Sunday show.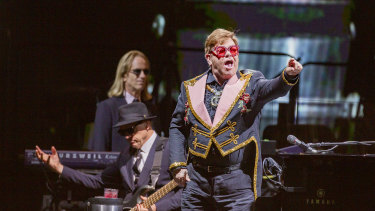 "Hey you two security guards with the girl … f— off," the singer said.
"Let her up here immediately … come on you c—s."
But he wasn't finished.
"Morons. Both of you, morons," he continued his tirade. "You don't treat girls like that. Leave her alone you turds."
Mr North said Sir Elton should issue an apology to the guards and their firm.
"The abuse to follow from Elton was not that of an informed or rational person," Mr North said.
Loading
"He took his advantage of having a microphone in his hand, a celebrity status and someone with influence to bully two security guards.
"He chose to make himself look like someone who is standing up for what's right when he alone was completely wrong – not slightly – completely wrong."
Today Perth presenter Louise Momber was also in the crowd and said she could not believe what she was hearing when the singer spoke out.
"He was so angry," she said. "He said he can't stand violence against women and had to say something.
"He sang the next song and then immediately apologised for his rant – but said it's something he's really passionate about."
A VenuesWest spokeswoman said a female patron was removed during the show from front of stage, with the approval of Sir Elton's security representative on stage.
"Under the circumstances, the security team acted appropriately and we (VenuesWest and security) worked together with Elton's team to ensure that the event was safe and successful for the artist and the patrons," she said.
Elton John's Farewell Yellow Brick Road tour is in Adelaide on Thursday, and is moving to Victoria next.
Daile Cross writes news features with a focus on social justice for WAtoday.