Suggestions of pressure from police being brought to bear on live music venues is a matter OneFour's management company is pursuing, but cancelled shows, abandoned tours and uproar around musicians is far from new.
Sinatra was one of the biggest stars in the world when he arrived in Sydney on his private jet in the middle of '74 with two shows booked in Melbourne and three in Sydney. When Sinatra, on stage in Melbourne referring to women in the media as "hookers of the press", he quickly earned himself the wrath of everyone from the Australian Journalists' Association to the Transport Workers Union, which led to a refusal to fuel any jet Ol' Blue Eyes tried to fly on.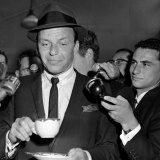 Sinatra's second Melbourne show was cancelled and then president of the Australian Council of Trade Unions, Bob Hawke, was brought into the fray to broker a deal that eventually got Sinatra back in the air and onward to his Sydney shows.
English rock star Joe Cocker was another musician embroiled in controversy after playing successful shows in Sydney. Arriving in Adelaide in October, 1972, where the tour was due to continue, Cocker and five band members were arrested and charged for marijuana possession. The tour eventually made its way to Melbourne, where Cocker was again arrested following an alleged fight with his girlfriend. Cocker and his entourage were deported, with shows in Brisbane and Perth promptly cancelled.
Loading
Australian rock royalty Cold Chisel, who embark on their Blood Moon tour starting December 31, were no strangers to controversy prior to breaking up in 1983. Nominated numerous times for a 1981 made-for-television awards program, the band smashed part of the stage during a supposed live performance and changed the words in My Turn To Cry, with Jimmy Barnes instead singing the line: ''Now you're trying to use my face to sell TV Week.''
It was a protest, of sorts, with Cold Chisel aiming to make a statement about magazines and television shows cashing in on the band's success, which was hard won on the back of more than a decade of relentless touring and recording.
The rise of West Coast hip hop in California was underway around the same time Cold Chisel were calling it quits. N.W.A, one of rap's most well-known groups came – as their 1988 debut album was called – Straight Outta Compton, and made no apologies for lyrics considered by many to be misogynistic as well as glorifying gang lifestyle and crime. F–k tha Police, written by Ice Cube and MC Ren, led the United States' Federal Bureau of Investigations to write to N.W.A's record company, informing them the group should expect to be banned from playing at several venues.
Controversy around N.W.A and attention from the police only heightened during the group's six years together, sparking among other things, warning labels that resulted in N.W.A being one of the earliest groups to have the distinctive "Parental Advisory" sticker plastered on their albums.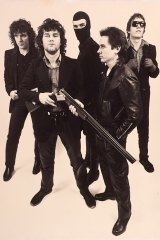 OneFour, whose lyrics focus on issues around racism, marginalisation and conflict, have now come to the attention of authorities. It's a spotlight the group may not have been fully anticipating but it's making life in a cut-throat business even more difficult.
There's an old saying in the entertainment business that any publicity is good publicity. However, if a group of musicians can't get on stage, questions have to be asked about how long that group can expect to survive.
Martin Boulton is EG Editor at The Age and Shortlist Editor at the Sydney Morning Herald