To encourage attendees from all backgrounds, the festival organisers have created posters and flyers in different languages for selected events: Footscray by Night in Vietnamese, The West Azmaris in Ethiopian, and Kala, a classical Indian dance event made up of three performances, in Hindi.
The area's history is explored and celebrated via a number of events. An umbrella event with Due West, the Sunshine Silos Projection Festival will see the silos, once used for storing grain, lit up with projections by the Little Projector Company. Parsons Reserve will host a celebration of Sunshine's diverse history and community, with live performances, roving entertainers, food trucks and activities for children.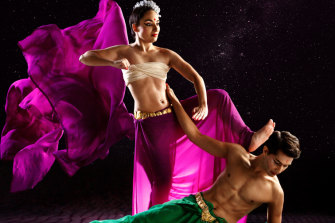 Paying homage to the working class roots of the west is a significant theme. A tour of old Footscray, titled Up Bunbury Street, will be led by Bill Horrocks, a former mayor of the suburb, and his wife Heather. Stories about Footscray will be told by people from various perspectives including William Cooper, political activist and Aboriginal community leader; landowner Annie Dowd; feminist Maisie Fawcett, a botanist and early environmentalist; Joseph Levien, a Jewish publican and punt entrepreneur; and George Seelaf, a trade unionist. For those preferring to DIY, a self-guided audio tour is offered via the Newport Archives, enabling you to explore the suburb and its surrounds, drawing on interviews with local residents to bring it to life.
Opening night sees 14 performers take to the stage at the Footscray Community Arts Centre, a gorgeous open air amphitheatre overlooking the Maribyrnong River, as well as the jetty over the water. Part welcoming ceremony, part performance, led by Indigenous elders and artists from the west, audiences will help create a communal sound sonata in a composition by James Henry and Ngargee Murmindik Yan Yan. Closing night will use the lawn in front of the Arts Centre, bookending the event with a Caribbean-influenced sound system featuring El Gran Mono and Heartical Hi-Powa.
Originally known as the Big West Festival, Due West was launched in 2017 and presented by Maribyrnong City Council. Due West replaced Big West – which was last held in 2015 – and though they are spoken of as different offerings, they have a very similar format and timing, occurring biannually. This year marks the first festival programmed and operated by the Footscray Community Arts Centre (FCAC).
FCAC has a new executive structure in place; CEO and director Martin Paten finished in September. Previously general manager, Robyn Gawenda is now executive director and co-CEO, responsible for operations and business, while Daniel Santangeli is artistic director and co-CEO. He was previously program manager at the Midsumma Festival.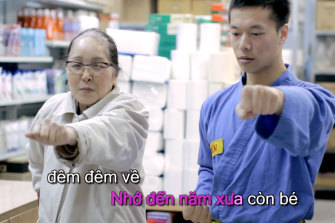 Gawenda says the FCAC is a unique and complex arts organisation, with a big program and a sprawling venue. She is proud it was appointed a registered NDIS provider in 2018, one of the few mainstream arts organisations in Victoria to have taken that step.
While the organisation had been running a program for people with disabilities for over a decade, it had to overhaul that to achieve accreditation. About 50 artists currently access the program, called ArtLife, the majority of whom have intellectual disabilities. A 44-week-a-year program, ArtLife includes workshops, residencies and mentorships, many of which culminate in exhibitions and performances.
The Due West festival will showcase several such shows, including Our Dance Between and Sometimes I Just Miss Hearing Their Voice. At a series of public workshops, attendees can work alongside the artists across a number of artistic disciplines, including printmaking and collaborative drawing.
Like many arts organisations, FCAC is currently going for funding under the Australia Council, the strategic plan having been recast to achieve NDIS registration. Gawenda says it's a hugely exciting time for the organisation with all sorts of exciting initiatives in the pipeline: watch this space is the bottom line.
Due West Festival is on from November 15-24. duewestfestival.com.au