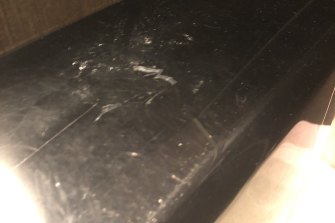 A number of guests both male and female could be seen cleaning their nostrils free of white powder in the mirror before returning to festivities. No identified performer was caught using illicit drugs.
Eager to keep guests in their seats for the announcements, which were being filmed, the event's organisers and staff kept alcohol-filled eskies stocked in each aisle of the venue.
ARIAs host Guy Sebastian showed no indication of knowing about the extra curricular activities unfolding in bathroom stalls when he encouraged the attending celebrities that if they needed to "go to the dunny, wait until the ad break".
Wildlife warrior Robert 'Bob' Irwin and his snake Larry weren't enough to keep the audience entertained even after calling on Sophie Monk on stage.
And by the time British pop sensation Dua Lipa presented the nominees for album of the year, it was to a scattered audience of empty seats, which was pointed out and shared on Twitter.
Viewers at home weren't impressed with the evenings viewing either, with a national audience of 417,000 overnight metro viewers, it was the lowest TV ratings for the show for some years and a 16 per cent drop from last year.
While livestream figures have yet to be revealed, YouTube's clips of ARIAs performances are already picking up a stack of views with Tones & I, Halsey, Guy Sebastian and Dua Lipa's performances all picking up more than 150,000 plays. At one point the awards were trending on Twitter in the US and Australia, at number one in Australia for four hours.