He says The Secret Garden is "right up there" with his favourite performances, and his reprisal of the role next year will be emotional as the memories replay in his mind.
"It's a role I absolutely adored when I did it 25 years ago," he says. "I needed that for my spirit."
The show served as a tonic – there was a lot going on in my life at that time.

Anthony Warlow reflects on his cancer battle.
Warlow says the show helped with his recovery, describing it as "my year of coming back to life".
"The show served as a tonic – there was a lot going on in my life at that time."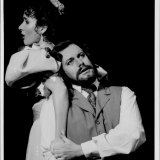 He says he is looking forward to his daughter, who was born around the same time, seeing it for herself. And he plans to use the emotion from all those years ago to bring extra feeling to the role this time around.
"As an actor you pull on all the emotional baggage you require to make it work. I will play with that," Warlow says.
The musical opens at the Sydney Lyric Theatre next August before moving to Her Majesty's Theatre in Melbourne in November.
Warlow says having performed the role before is an advantage, but he aims to bring "different energies" this time.
Loading
"I was able to bring certain qualities because of my certain circumstances at the time. Those fears and tribulations were part of my performances every night," he says. "Now I feel a certain confidence I can impart."
Reflecting on a long career on the stage, Warlow laments the loss of mystique in the theatre with constant behind-the-scenes access showing how productions are made.
"I like to have people come to a performance, see the magic and leave wondering how it was done. In that regard I am the classic dinosaur of the music industry," he says.
But not everything has changed, and Warlow still believes there is power in live theatre.
"You go to the theatre to hear a beautiful orchestra live. The performances are ephemeral – you are part of that synergy. It's the silver thread that connects you to the people on stage. That has never changed and never will change," he says.
The Secret Garden will be presented by Opera Australia and producer John Frost, and reunites the original Broadway creative team. Tickets for the Sydney performances go on sale on Friday, while fans in Melbourne can join a waiting list.
Josh Dye is a news reporter with The Sydney Morning Herald.