Kids, he says, fill in that disconnect. "They interpret it, which means that you and I never really know exactly what the kids like about the books."
It's a concept he fell into in the 1980s when he was working as a freelance artist for The Age.
You and I never really know exactly what the kids like about the books.

Leigh Hobbs
"The stories I was being asked to illustrate were things about money, or finance – stuff I had no idea about! I'd go into a panic, and I'd only have a couple of hours, so I'd just do a crazy drawing, pick a couple of lines of text from the article, and think, 'I'll stick that with it' – and there was a mad disconnect," he says. "They used to think I was being so ironic, but really I was in a mad panic and didn't know what I was doing."
But the idea stayed with him when he began writing kids' books.
"Why double up?" he asks. "That's what's terrific about kids – if they get engaged on the front page, they'll just follow you anywhere. I think there's an adult logic and a kid logic and I suspect kid logic is about the imagination."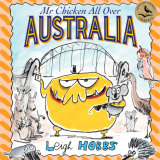 Never a fan of "cute stuff" – "I never read kids' books when I was little; I was interested in reading about the history of the plague, or the crusades" – he says he didn't set out to make the books funny. "It's just sort of how I think," he says.
Hobbs' new book is inspired by his years as the Children's Laureate in 2016-2017, during which he travelled around the country giving talks and meeting kids. Mr Chicken All Over Australia is dedicated to the children, teachers and librarians he met during those travels and features real letters sent to Mr Chicken from kids all over the country.
Mr Chicken's previous adventures have taken him to Rome, London and, most famously of all, the Louvre, where Mr Chicken was born, when Hobbs began sketching, imaging "this ridiculous character somewhere like that". (Mr Chicken Goes to Paris remains a bestseller in the museum bookshop, 10 years later.)
"I'd never intended to do one about Australia – never," says Hobbs. "It all seemed too familary and … daggy. I love it, but I've always been drawn to Europe in a way."
But his travels to far-flung towns inspired him.
"I went to all these mad places that I'd never even heard of – Penguins in Tasmania, I spent five days in Kununurra. Then there's Grong Grong and Poowong – I'd never even heard of Poowong."
Mr Chicken makes it to a great deal more towns than Hobbs himself (amazingly, in just two days), but Hobbs loved seeing parts of the country he'd never visited – including several of our famous "big" landmarks, a few of which Mr Chicken visits in the book.
"And not one of the town names is made-up," he says. "The point is that kids can look up the places."
Next up for Hobbs is a re-issue of Old Tom, to celebrate the book's 25th anniversary, and then Horrible Harriet will make a return.
"None of my characters are retired; they're just resting," Hobbs says.
He thought he was "a bit over" Harriet, but then had a rush of ideas and has recently filled his sketchbook; he shows me a book full of hand-drawn sketches.
Hobbs knows that many illustrators use computers these days but he still loves drawing and painting – even using an old board his father gave him when he was six – and isn't about to change.
"I love all the paint and the paper and it's a rhythm thing. Everything is on paper and ink and paint. I don't see the point in using a computer," he says.
"There are some things I could do, probably colouring in would be quicker, but it's too late now – I've worked out my own ways."
Mr Chicken All Over Australia, Allen&Unwin, $24.99, is out now.
Kylie Northover is Spectrum Deputy Editor at The Age