More than 100 protesters later demonstrated against the award in a Stockholm square.
"The problem with Handke is his refusal to admit genocide on the Bosnian population in the 1990s," said Adnan Mahmutovic, one of the organisers of the demonstration in Stockholm.
"As a serious, established writer who has a lot of clout in European literature Handke has been used in the narrative of genocide denial in the Balkans," said Mahmutovic, who fled to Sweden as a refugee from the war in Bosnia in 1993.
Albania, Bosnia, Kosovo, Croatia, North Macedonia, Turkey and Afghanistan boycotted the ceremony and some of those countries' leaders denounced the prize.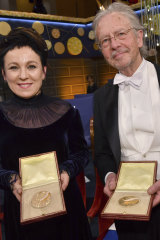 "To give the Nobel Literature Prize to a racist personality can have no other meaning than to reward human rights violations," Turkish President Recep Tayyip Erdogan said on Twitter. Kosovo President Hashim Thaci said that "justice will prevail, not lies, denial and fake Nobel prizes."
In the Bosnian capital of Sarajevo, a war victims' association erected a large electronic display portraying Handke as a villain standing next to skulls.
"As a citizen of Sarajevo, I am horrified with this. He is genocide denier. He claims genocide did not happen in Bosnia. We will never forget this," said Sarajevo resident Senka Tinjak.
Many journalists who covered the Bosnian war also took to Twitter to denounce Handke receiving the award.
One of them, Peter Maas, told The Associated Press in Stockholm that "the ideas that Peter Handke has are extremist ideas, they are held by a discarded minority of people … The Swedish Academy, the Nobel Prize Foundation, and today the royal family of Sweden – they are the ones now throwing their weight behind these extremist ideas."
Serbian President Aleksandar Vucic congratulated Handke on his award, saying that "we consider you one of us and a true friend of Serbia."
Handke made no mention of the issue at the later Nobel banquet in Stockholm's ornate city hall, giving only brief allegorical comments that concluded "strawberry fields forever, wild strawberries forever."
At the time of his death, Milosevic had been on trial over atrocities and ethnic cleansing committed by Serb forces during the wars that tore apart the old Yugoslavia in the 1990s. Last Friday Handke dismissed questions about his support for Milosevic.
Handke is the author of books such as The Goalie's Anxiety at the Penalty Kick and Slow Homecoming. He also co-wrote the script of the critically acclaimed 1987 film Wings of Desire.
Loading
The Nobel Peace Prize was awarded separately earlier on Tuesday in Oslo to Ethiopia's prime minister Abiy Ahmed for his sweeping domestic reforms and accepting a peace deal with neighboring Eritrea that ended a 20-year border conflict.
Reuters, with AAP