Partos, the night's big winner, also added two other Screen Music awards to his resume: best music for a television series for Bloom, with co-composer Jackson Milas; and feature film score of the year for his work on Netflix flick I Am Mother, with co-composer Dan Luscombe.
The former, with its nostalgic music-box melodies, and the latter, an ambitious score that whirls between Also Sprach Zarathustra evocation and ominous industrial whirring, both showcase Partos' remarkable range. Not that he was confident, though.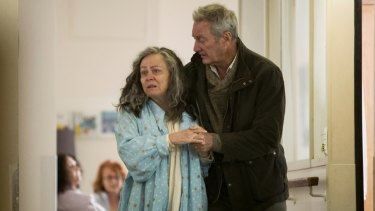 "It literally felt like an embarrassment of riches. I was gobsmacked. I even told my partner not to bother coming this year because I didn't think I had any chance," Partos says of his wins. He even favoured Matteo Zingales' work on Netflix's Tidelands for the TV prize.
"I was just blown away by his score and I thought he would be a deserving winner. And also I thought I'd had my time in the sun."
Partos – who, in a career stretching almost three decades, has composed for films including Top End Wedding, Jasper Jones and Tanna, and TV shows including Love Child, Mystery Road and Total Control – says local appreciation for the "dark art" of screen composing has grown since he graduated film school in 1991.
"When I was a film student, there was nowhere to study film music. I had to do a BA in film and television majoring in sound and then used my time there to network. But now there's a plethora of courses for budding film composers. The problem is the number of projects available for professionals is still pretty limited in Australia," he says.
While streaming services have driven a spate of new productions, the rise of international co-productions and the lack of local content regulations mean streaming remains largely a "global industry", says Partos.
"Free-to-air television has those local content rules but because their audiences are declining I'm noticing there's a tendency for those networks to not take as many risks because they want to appeal to the broadest audience possible, whereas streaming services are more inclined to take risks and are happy to appeal to a more niche audience. So these are interesting and very, very changing times."
Other winners at Wednesday's awards included Every Day My Mother's Voice, Paul Kelly's song for the Adam Goodes documentary The Final Quarter, which won best original song; first-time nominee Piers Burbrook de Vere, who claimed best soundtrack album for his work on the zombie comedy film Little Monsters; and Michael Yezerski, who won best music for a mini-series for his work on the SBS crime drama Dead Lucky.
*Stan is owned by this masthead.
Robert Moran is a culture reporter at The Sydney Morning Herald and The Age