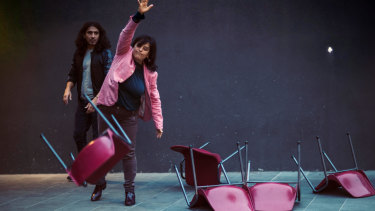 MOVIE TICKETS TO JUDY AND PUNCH
Writer-director Mirrah Foulkes delivers a dynamic live-action reinterpretation of the famous 16th- century puppet show for her feature debut which is released on Thursday, November 21. Turning the traditional story of Punch and Judy on its head, the darkly comic female-driven revenge story is set in the anarchic town of Seaside – nowhere near the sea, where puppeteers Judy (Mia Wasikowska) and Punch (Damon Herriman) are trying to resurrect their marionette show. There are 20 doubles on offer. Entries received on cinema@madman.com.au before midnight tonight have the chance to win.
WINNERS
MOVIE PASSES TO BALLOON: Ashley Dunn, Bettina Mebes, Billy H.L. Low, David Modrich, Di Lewis, Gavin Liddle, Jura Reilly, Kaye Macrae, Lisa Gleeson, Lynette Dell, Maggie Baring, Maree Trewin, Marianne Peterson, Mike Smith, Nella Le Hunt, Norbert Wichmann, Paul Dunell, Ray McEvoy, Robyn Doyle, Sandra Oakey.
108 WANDERLUST FESTIVAL: Denis Mathieson, Olga Volpe, Elizabeth Sundram, Graham Jenkins, Carol Rawson.
MICHAEL FEINSTEIN WITH BOBBY FOX: Phil Lipshut, Anjie Carter, Steve Drape, Adrian Conte, Andrea Paulsen, Philippa McInerney, Eugenia Gurrieri, Allana Bettess.