As the use of oil spreads, however, we meet May again at pivotal moments in its voyage. She's on the ground when the British empire takes on the Middle East at the start of the 20th century, and running her own petroleum company as we hit peak oil in the 1970s. When we find her today, her relationship with oil is as fraught as our own and 30 years from now we see her world has transformed once more in fascinating and provocative ways.
If the chronology sounds out of whack, yes, May lives for more than a century and a half without ageing. Her daughter Amy does, too, while other characters echo those of different eras in the play, or even seem to reincarnate them. It's a device that has drawn comparisons to Virginia Woolf's Orlando and David Mitchell's Cloud Atlas, but here it allows Hickson a canvas bigger than any one lifetime while centring on very recognisable relationships.
I had to do it. It's the role of a lifetime.
The scope of the play focuses on five distinct periods from our past and future, presenting a great challenge for anyone staging it. ''It's five worlds that we're exploring,'' Caldwell says. ''So that takes a huge amount of in-depth research and building of each world, almost as if they were five whole different plays to explore.''
Daniela Farinacci had just come off an MTC show when Caldwell approached her about the play. She was reluctant to read it, hoping instead for a break from work. ''But I read it and went 'oh my giddy aunt, this is huge'. I tried to not do it. I really did try to talk myself and everyone around me out of it. But it got under my skin. Like oil, it seeped in. So that I couldn't sleep without thinking about it. It sounds like I'm exaggerating but it actually was that. I had to do it. It's the role of a lifetime.''
She's not overstating things when she compares the role to Lear. ''Roles come at certain times in your life. I play May from 20-something right through to possibly her 80s – we just call it ancient – and it feels right. It's good timing. I'm glad I'm where I'm at in terms of my own life experience and my professional experience. It's big. It's like playing King Lear. You can't be playing Lear when you're 30. You've got to be at a certain point in life.''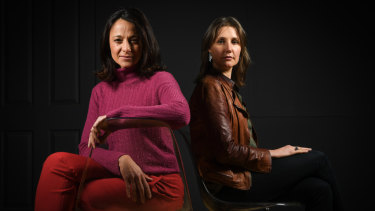 Farinacci now has a wall at home covered in research. ''I am a bit of a prepare-freak. Everyone has different ways to get to where they need to go but with this one, I feel I needed to come into rehearsal with a strong sense of (May's) journey. The flow from one stage to the next. I spent a week on each part to fill myself up with the history and politics of that time and gathering images.''
Much of the sophistication of the play lies in the intricacy of the relationship between May and her daughter as it evolves over time. It's not as simple as mirroring our own relationship with oil, but the co-dependency, power struggles and short-sighted decisions do resonate between the macro- and micro-territories the play explores.
''It's why the play's so brilliant in not having any black and white,'' Caldwell says. ''May is a heroine, she's a visionary, and yet she's also at moments a villain.''
Farinacci says: ''The writing is supreme in that it has somehow managed to find this balance between making these symbolic connections but also allows May to be very human. ''There's a contradiction. But it doesn't feel didactic.''
The size of the play has meant that Red Stitch has made a rare venture beyond its intimate St Kilda home, instead staging the work at the much larger Cromwell Road Theatre in Prahran. If getting used to a new venue wasn't enough, Oil also asks anyone staging it to employ only power sources that were available in the era being presented.
''It has been really thrilling,'' Caldwell says. ''It is a big challenge to work with entirely natural light or by candlelight. It's an entirely different process in terms of the directorial process, because you need to shape the story with the light you have available.''
Limitations can be a gift, she says. ''As light sources become more abundant and more available, it's a beautiful reflection of how May's own power progresses. That is paralleled by how her relationship with Amy and her trajectory in the world peaks right at the point when we're at the peak of our relationship with the oil industry. Which is also when we have the most available light.''
Oil is at Cromwell Road Theatre from November 12.